There are a few possible reasons this can happen!
1) Our emails start going to your spam folder.
Sometimes (for reasons we don't entirely understand either!) emails that were being delivered to your inbox can start going into your spam filter.
If you don't see a Wine Wednesday email from us, we always recommend checking your spam folder in your email.
To ensure they don't go into the spam folder moving forward, please add
online@bishopscellar.com
to your email's address book!
2) Accidental Unsubscribe.
Some customers accidentally unsubscribe from all emails, when they only mean to stop receiving a certain kind of email. It's also possible to click the Unsubscribe button by mistake while scrolling through the email. These things happen sometimes and they can be fixed!
What to do: Simply search for the last email you received from Bishop's Cellar, open it, and scroll to the bottom where you will see a link that says Update your email preferences. Click that and opt into the email lists you'd like to receive.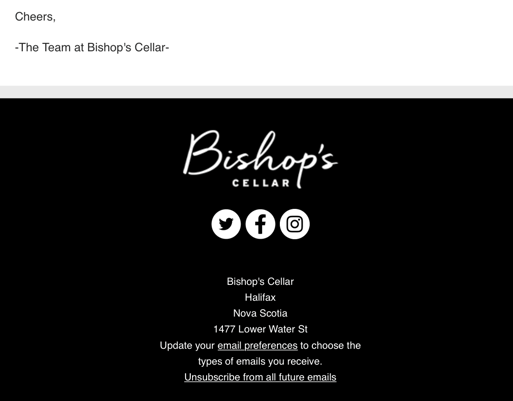 3) Email bounces.
Sometimes (again, for reasons we don't really understand either!) there can be an issue delivering your email.
When that happens our email software will sometimes stop sending you emails. Don't worry though! Just let us know and we can fix it for you.
Still not sure what the issue could be? Send an email to online@bishopscellar.com and our customer service team will investigate and sort it out for you!